A very common question we receive is "How do I know what kind of tire I am running?"
While there are a number of different size truck tires available today, the four most common sizes used are:
11R22.5
Commonly referred to as a "Tall 2"
11R24.5
Commonly referred to as a "Tall 4"
295/75R22.5
Commonly referred to as a "Low Pro 22.5 or Low 2"
285/75R24.5
Commonly referred to as a "Low Pro 24.5 or Low 4"
In order to determine the size you're running, it's beneficial to understand exactly how to read the sidewall of your tire.
Check out the tire below. Move your cursor over the blue markings to learn what each item means.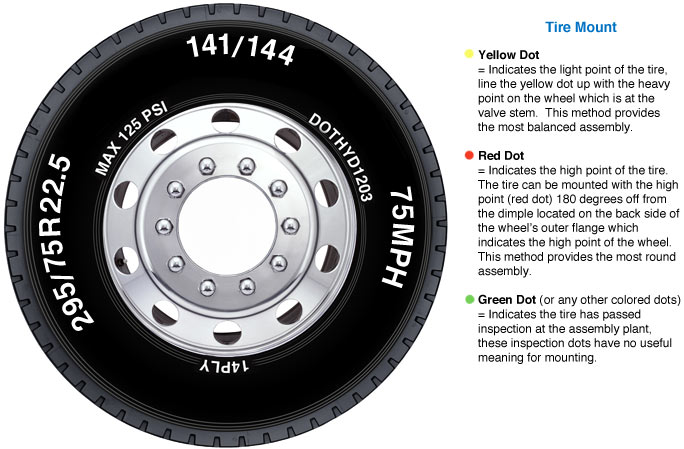 Width
The width indicates the widest point of a tire from sidewall to sidewall.
Height
The aspect ratio indicates the dimensional relationship of the section height to the section width.
Radial
Tires with an "R" indicate radial tire construction
Diameter
The diameter is the size of the wheel from one side to the other.
Load Index
The load index number corresponds to the maximum load-carrying capacity of the tire.
Speed
Indicates maximum speed at the rated carrying capacity
Ply
Tire ply construction and weight capacity rating
PSI
Maximum inflation, pounds per square inch
DOT
The DOT tire identification number indicates compliance with all safety standards established by the U.S. Department of Transportation and provides additional information about the tire. It's a series of letters and numbers. The last four numbers are the week and year the tire was made.